Announcing Namada's first 'Privacy as a Public Good' Meme Contest
Take home the gold medal! Starting March 17th, we're hosting a meme contest to celebrate our progress as a community. The theme? Privacy as a Public Good. Don't hold back — we want to see your best meme-creation skills and humor. Details below!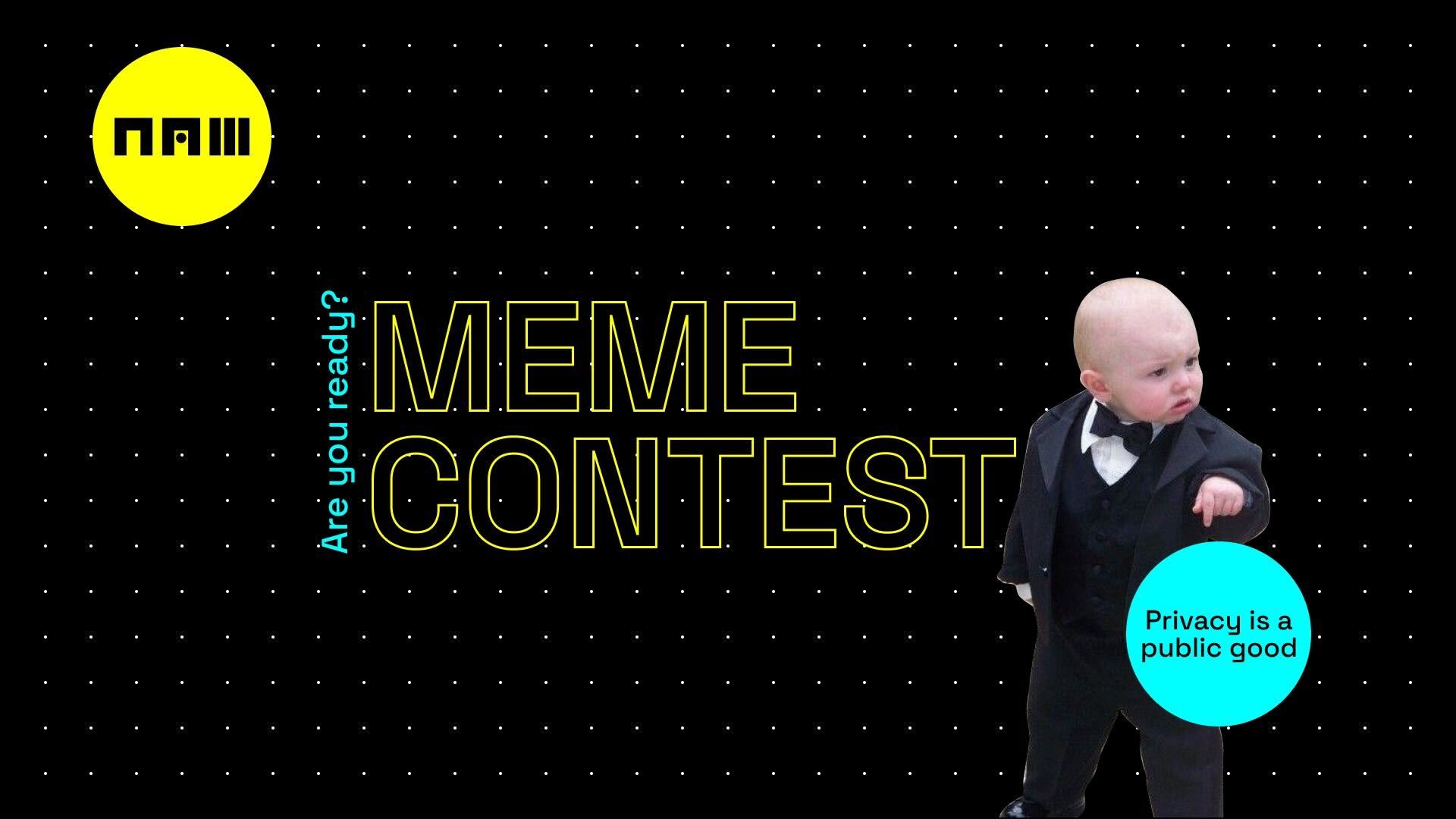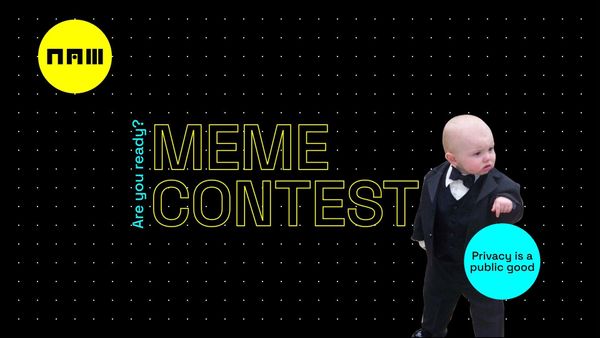 Updated on Mar 24, 2023 at 13:30 UTC. Submission dates extended.
It's been a busy last few months for the team with some big milestones achieved – launching and upgrading our public testnets and growing our Retroactive Public Goods Funding (RPGF) program. So we thought — what better way to celebrate than with a public Namada meme contest?
Memes are a great form of communication — they not only simplify complex topics making them more widely accessible but also generate a new, light-hearted onramp for like-minded individuals to join our community and discover our privacy-focused blockchain movement with Namada.
Keep on reading if you'd like to participate!
Key Dates
We decided to extend the contest submission deadline by an extra 7 days to help unlock further meme potential! We want to give more people the chance to join the contest and offer existing participants the opportunity to improve their scores (resubmissions allowed, up to 5 per person).
We are also sharing some tips and tricks to make your meme a winning meme (see section below). Things have just started to warm up - so let's make this takeover even bigger.
New contest dates:
The contest begins on March 17th. Submissions now close at 10:00 UTC April 3rd.
The team building Namada will pre-select the top 20 memes (based on originality, educational impact, likes, retweets, how funny they are, etc.), between April 3rd and 4th, and once selected, they'll be posted in a Twitter thread for community voting. Make sure to follow us and turn notifications on.
Community voting will begin at 15:00 UTC April 4th and end at 23:59 UTC April 6th which will determine our winners.
On voting day, out of the top 20, 10 winners will be selected to win either a gold, silver, or bronze prize. Winners will be chosen based on the highest number of likes (1 point) and retweets (5 points) received, so make sure to support your favorites! Every interaction matters.
The winners will be announced at 15:00 UTC on Friday April 7th.
Tips to Make a Winning Meme
Pick a topic and make your meme about one of these: On-chain Privacy, Privacy as a Public Good, Financial Privacy, RPGF - Namada, ZK Innovation, Privacy for National Defense, Privacy to Safeguard Democracy, Privacy is Normal.
Avoid memes that are too vague or generic, or that simply suggest "Namada is the best". These won't help outsiders know what Namada is about :(
Make it educational – Think about the value that our technology brings to the multichain and privacy space, and focus on conveying that message. Take ideas from our blog articles: https://blog.namada.net
When posting your submission on Twitter, don't forget to:
➡️ Tag up to 10 privacy lovers
➡️ Tag @Namada
➡️ Use #Namada
➡️ Follow @Namada
➡️ Share your submission URL on #meme-competition on our Discord
5. Here are 4 examples of memes that would score high (for guidance):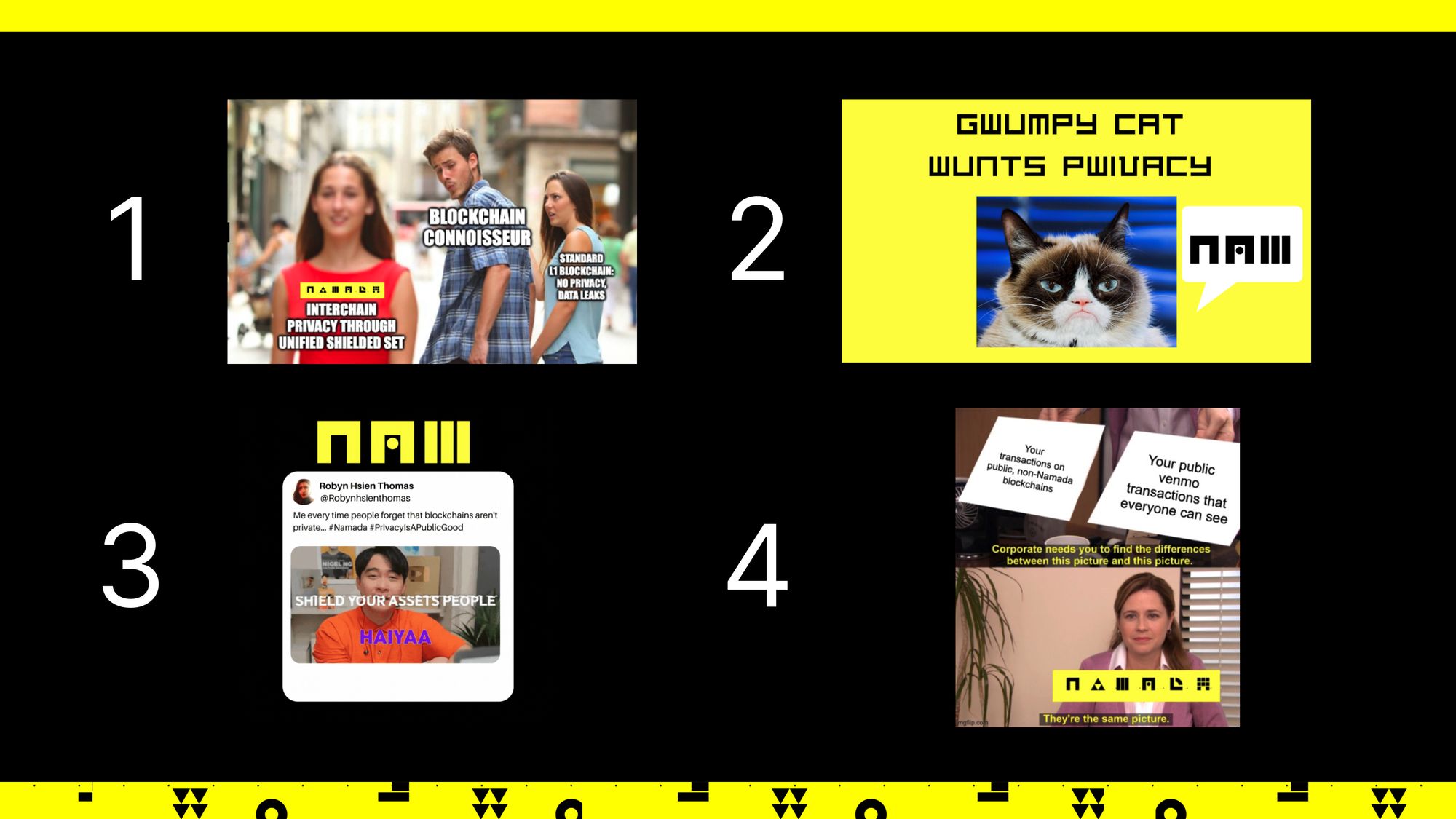 The Prizes
Awards will be presented in three tiers: Gold, Silver, and Bronze. Gold medals will be awarded to the top two memes with the highest scores, Silver medals to the next three highest scores, and so on.
1️⃣ Gold medal 🥇 (2 winners) 100 Tokens + An exclusive swag bag each
2️⃣ Silver medal 🥈 (3 winners) 50 Tokens
3️⃣ Bronze medal 🥉 (5 winners) 30 Tokens
How to Participate
It's very easy to join.
Simply follow this short form (also shown below) — and then, you can unleash your wittiest and most original Namada-themed 'Privacy as a Public Good' memes on Twitter. Make sure to follow us and tag us! Our new Twitter handle is @namada.
Also, please note that only those who have completed the Typeform survey in full will be eligible to win and that this form contains all the information you need to have a shot at winning.
We also strongly encourage you to post your memes in the #meme-competition channel on our Discord.
We can't wait to see what memes you come up with, and we look forward to crowning our new privacy-focused blockchain memelords.
Good luck!