Namada and Anoma at zkSummit in Lisbon: Join Us
The 9th edition of the zkSummit Lisbon (April 3rd-4th) is almost upon us, we couldn't be more excited to return one more year to meet and network with the amazing zero knowledge community (including maybe you?).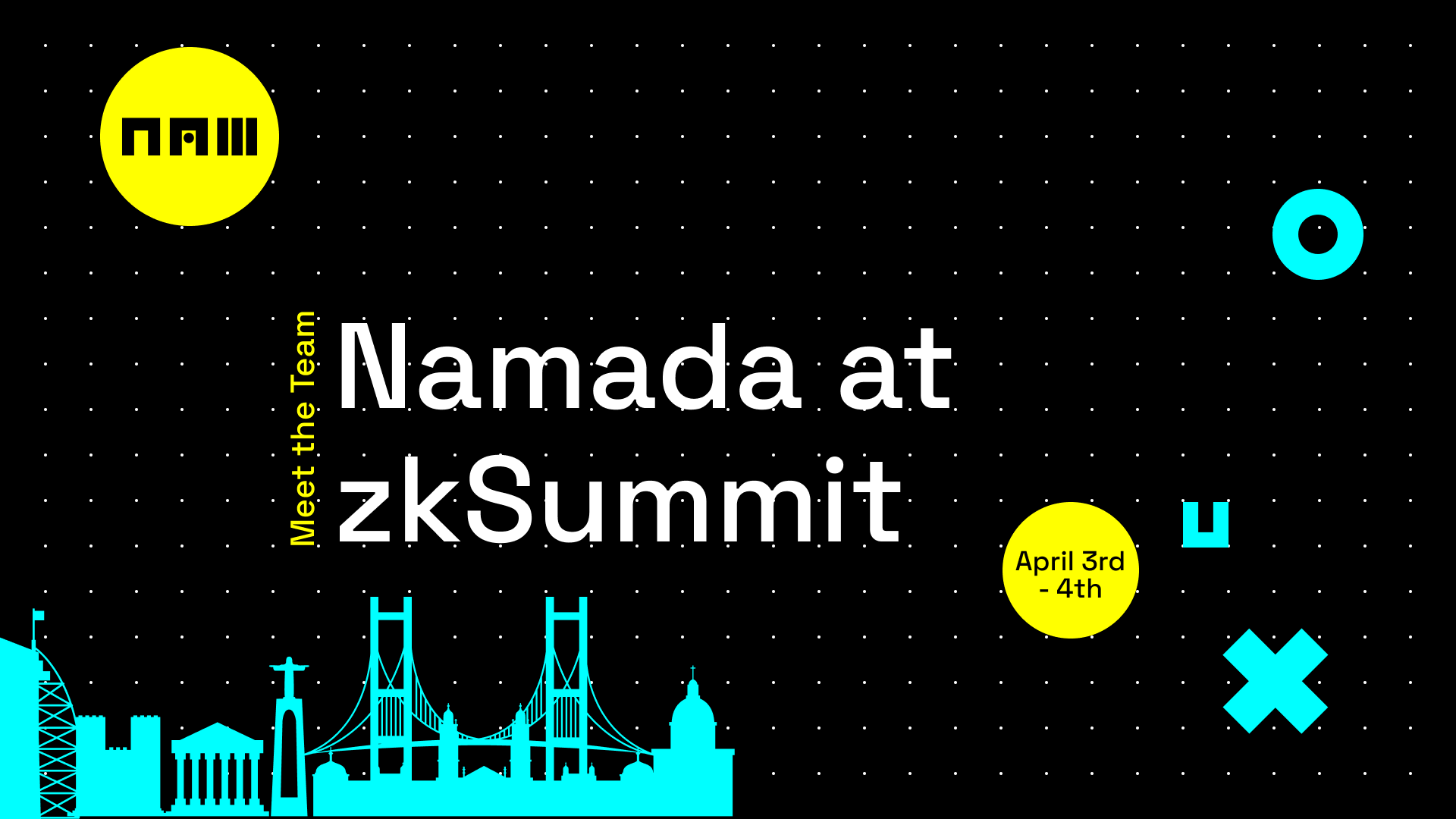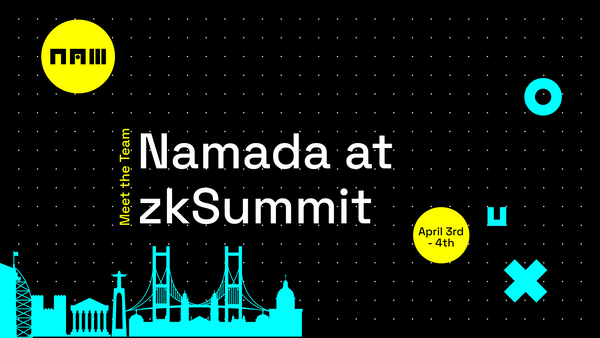 The 9th edition of the zkSummit is upon us, and the teams at Namada and Anoma couldn't be more excited to return to Lisbon again this year to meet and network with the amazing zero knowledge community (including maybe you?).
If you want a 1-on-1 meeting with one of our team members during the summit, fill out this form and we will get back to you with a time and a slot. Or simply let us know which side events you'll attend so we can say hi!
We're also hiring, and this is a great opportunity to meet the team and let us know about your experience in person.
Why zkSummit
zkSummit is a one-day, invite-only event that brings developers, community members, and organizations together to hear about cutting-edge zero knowledge research and innovations in the crypto privacy space. It's being held on April 4th in Lisbon — click here to apply to attend if you haven't already.
The event organizers – The Zero Knowledge Podcast – who are long-term friends of Anoma and Namada, are doing an outstanding job at educating listeners about the full spectrum of ZK tech from the depths of the underlying cryptography to applications built on top, and the founders building it. As a result, they have been nominated by our community for our Retroactive Public Goods Funding (RPGF) Program, which rewards contributors that raise awareness and provide education in the privacy-first technology industry.
Our founders have also been guests on their show on multiple occasions: Awa Sun Yin (Episode 253), Adrian Brink (Episode 184) and Christopher Goes (Episode 115).
This year, we return as proud platinum sponsors of the summit. The event promises to be filled with even more talks & workshops than previous editions, exploring the most advanced zero knowledge research and the latest in SNARKs, STARKs, cryptographic primitives, privacy and math. We cannot wait to meet all the amazing speakers, teams, and community members that will attend!
Where Can You Find Us?
We'll have a large, dedicated booth in the networking area, so please stop by and come say hi. We'd love to hear from you and meet you there. For more dedicated time to network and discuss, drop us your details in this form and we can schedule a 1-on-1 meeting. We'll also be hiring, so be sure to drop by with your CV if you want us to take a look.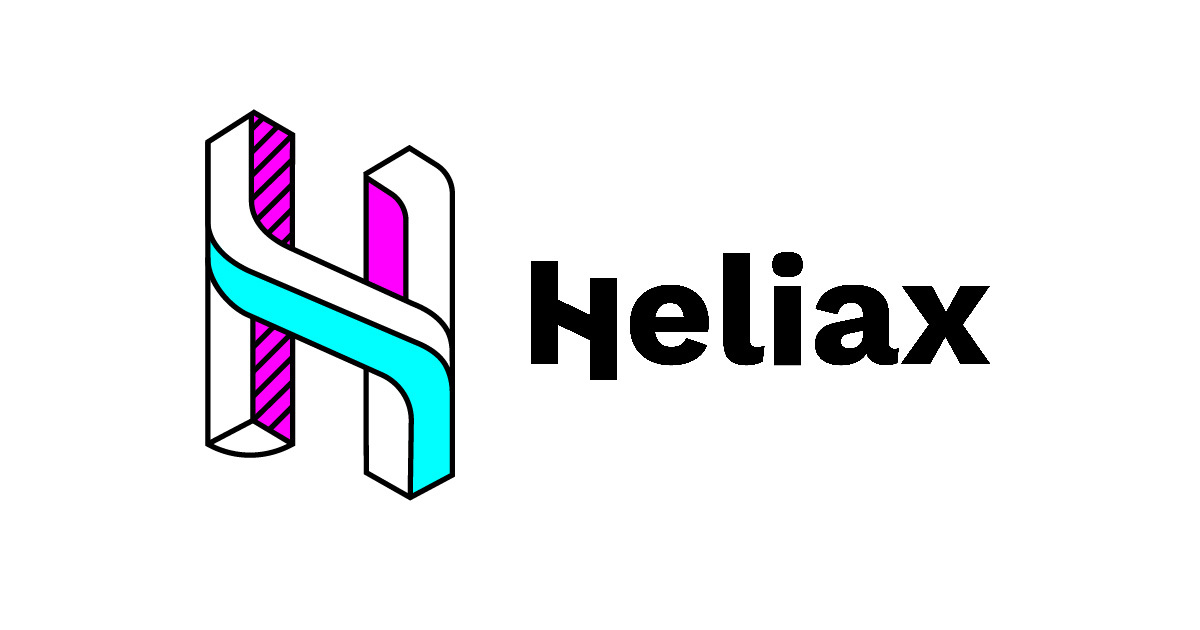 Namada & Anoma – Talks at zkSummit
Over the course of the event, our team members will be hosting a workshop and an in-depth talk, both centered around different zero knowledge topics.
VampIR: LLVM for polynomial circuits, now with benchmarks! – Joshua Fitzgerald, one of our cryptographers, will be leading a workshop on VampIR, a programming language for writing back-end agnostic arithmetic circuits for zero knowledge proving systems (which Joshua developed). It enables users to execute arithmetic circuits and generate proofs while providing benchmarks to measure performance. VampIR is designed with efficiency in mind, and it can be used as both an IR tool in a compiler stack and as a front-end language to write arithmetic circuits.
Taiga: A dark forest for composable private applications – Yulia Khalniyazova, who works on Anoma / Taiga research and cryptography, will be leading a talk on Taiga, which is an operating system entirely for use with decentralized applications. Taiga makes composable privacy possible for applications, enabling shielded multi-party atomic state transitions for free and providing zero-knowledge-proof-based data and function privacy. In this talk, Yulia will explain Taiga's inner workings of Taiga, what dApps on Taiga look like, and how they can be composed.
zkSummit is a biannual event that brings together the best organizations, thinkers, and community members to learn about zk developments and pool our knowledge and experience, helping to shape the future of zero-knowledge technology. We hope to see you there!
→ Apply to attend zkSummit here!
→ Schedule a 1-on-1 meeting with us here!